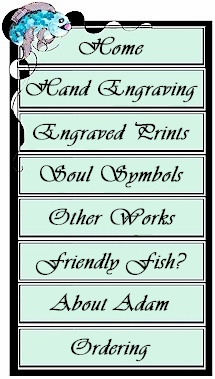 Soul Symbols are visual records of your Soul's wisdom, compressed into a picture that is then engraved on a piece of silver, gold or platinum. They are wonderful tools for connecting with a vast reservoir of personal power. During our lives, the channel to this power is often lost in a jumble of daily stresses, concerns, and worries. Soul Symbols help you align with and clear this channel, providing extra support in your life (for example: healing, courage, creativity, balance of desires, spiritual guidance and opening).

Each Soul Symbol is a unique personal Soul imprint (never repeated and is only for one individual). The symbol image that I engrave on the metal is channeled by my lovely wife Eugenia, who has been working to help others help themselves for over 20 years. Eugenia Oganova is a metaphysical teacher, best-selling author, a counselor, and a gifted clairvoyant. Visit her site www.EugeniaOganova.com. Her BLOG is filled with lots of practical self-help information, check it out :)
Clicking on any of the images below will open a new window with an enlarged view.
(Unique) Soul Symbol
Commission
Each engraved symbol is never repeated and is only for one individual
Available upon request. See Ordering info.